Colorado Springs Mold Removal Service Page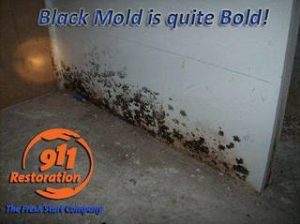 Did you know that almost every home will experience a mold infestation at some point in time? Despite your best efforts to keep your house neat and tidy, mold can secretly creep behind your walls, into your basement, and even underneath your floorboards. In addition to being gross, mold is also hazardous to your home and health.
Mold can strike anytime, anywhere. Commercial and residential properties that have recently experienced 911 water restoration have the highest risk of developing a mold problem. Thankfully, the IICRC certified crew at 911 Restoration of Colorado Springs is here to help. With 24/7/365 availability, we're able to resolve your mold problem almost immediately. We pride ourselves on having a fast 45-minute response time to offer swift assistance.
Other perks of partnering with us include:
A free visual mold inspection for property owners only

Third-party laboratory mold testing

Structural drying and dehumidifying

Professional mold inspection and sampling

And much more!
If you're ready to rid your home or school of its mold spore problem, call 911 Restoration of Colorado Springs now. We'll be at your doorstep right away.
Why You Need Quality Mold Decontamination Services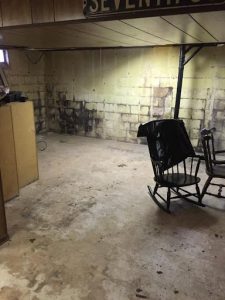 Mold is extremely helpful when it exists in its natural habitat. Mold breaks down organic matter, such as dead leaves and tree logs. It's a completely different story when this fungus invites itself into your home.
Mold will destroy any surface it grows on, including fabric, plastic, wood, and even glass. This will put the structural integrity of your building in harm's way. Moreover, mold can cause unpleasant odors and ugly stains throughout your home.
Mold is also problematic for your health. Breathing in mold spores will cause coughing, wheezing, sneezing, chest tightness, upper respiratory infections, and watery eyes. Young children, seniors, and people with allergies or asthma are the most susceptible to mold-related health issues.
To keep yourself, your family, customers, employees, and tenants protected, you must deal with the mold infestation right away. Prolonged exposure to mold will lead to chronic breathing issues and other serious conditions.
If you've spotted the symptoms of a mold infestation, including muggy odors, peeling wallpaper, or green stains on your walls, call 911 Restoration now. We'll be able to provide you with prompt same-day mold removal services.
You deserve a happy, healthy home. Call 911 Restoration of Colorado Springs now to put an end to your mold problem.
Benefits of Mold Remediation
Calling 911 Restoration of Colorado Springs to decontaminate your commercial or residential building of mold comes with tons of benefits. Some of the benefits of professional mold removal services include:
Improves indoor air quality

Makes your home smell fresh

Reduces the risk of structural damage to your home or retail building

Creates a healthier living environment
The highly skilled technicians at 911 Restoration of Colorado Springs want to ensure your home is comfortable, safe, and inviting. That's why we always go the extra mile to remove every mold spore from the property.
In addition to swift and efficient mold removal services, we also provide you with support and compassion. We understand that finding out your building has a mold infestation is stressful, scary, and embarrassing. That's why 911 Restoration is here to provide you with a Fresh Start.
We recently helped a local homeowner in the community. She had called us in a panic after finding black mold in her basement. 911 Restoration of Colorado Springs was on the scene within just 45 minutes. We provided the homeowner with a free visual inspection and immediately got to work. She was elated when we made her home safe and secure once again.
Serving the communities of Black Forest, Briargate, East Colorado Springs, Manitou Springs, Monument, Stratmoor, Woodmoor and surrounding areas.