Mold Removal Colorado Springs
911 Restoration Colorado Springs knows that water damage is usually followed by a mold infestation, which is why our trustworthy and affordable care envelops mold removal as well.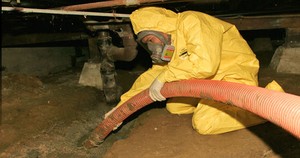 A simple pipe leak may not seem like a big deal, but it can lead to big trouble in terms of mold growth. Mold likes humidity. A small amount of water, with no escape, is enough to activate mold spores in the air.
The IICRC certified mold removal Colorado Springs team is insured, licensed, and bonded in order to bring you industry-leading services that are affordable and dependable.
If you discover mold then give us a call. We will bust the mold for you.
Most Likely Causes and Areas for Mold
In addition, mold needs organic material to grow, and things like soap scum, wood, paint, and drywall are things mold can thrive on, and then destroy the material.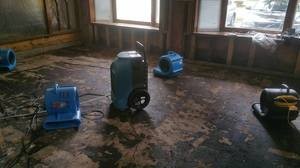 Improper ventilation in areas with high moisture, like bathrooms, leads to mold growth because spores proliferate faster than the water can dry.
Therefore, homeowners need to be on the lookout for areas where moisture can remain trapped.
Areas such as these include crawl spaces, in between walls, subfloors, cabinets, foundations, attics, and basements. Many of these areas are below, above, or in between hidden pipes.
In areas such as these, superficial mold on the surface of materials indicate that things around it are suffering from water damage.
Our mold removal Colorado Spring team recommends actively checking for pipe leaks, by noting your water usage through the meter. If water is consumed when you're not home, then you have a leak, which will cause mold if not remediated.
Mold in the Cold Month of May
The weather does not need to be hot for mold growth to take hold of your home. One cold day in May, a Colorado Springs resident was cleaning out her attic only to discover a wooden panel that broke when she stepped on it.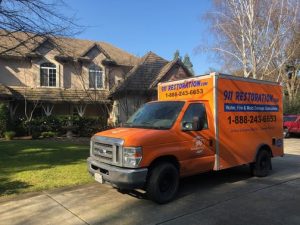 When she peaked in, she discovered mold living underneath her attic. When she called us, we arrived within the hour equipped with infrared cameras to find the cause of the mold growth.
The camera works by detecting cool blue spots that are signs of moisture. What our camera revealed was that a pipe leading to her restroom below ran through underneath her attic.
The pipe had been leaking water the entire winter, and was now showing damage in the attic.
Now, people may not associate the cold winter months with humidity, but when moisture is trapped under a space like this, the surrounding building materials insulate it, so that vapors start to build up.
Our mold removal Colorado Springs team was able to fix the leak, remove and replace the moldy material with fresh material.
Best of all, our knowledgeable team was able to get the restoration covered by her insurance company, as the mold was caused by existing water damage.
If you detect surface mold, give our mold removal Colorado Springs team with 911 Restoration Colorado Springs a call for a free visual inspection today!