Water Damage Restoration Colorado Springs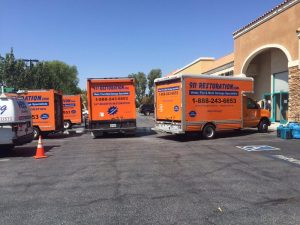 The owner of 911 Restoration Colorado Springs, looks forward to liberating people from the stress water damage brings.
He prides himself on delivering the fresh start that people need, and the better tomorrow they deserve.
"You know, when disaster strikes– homeowners are generally caught off guard. They are busy, so they need to know that they can pass the ball over to trustworthy and reliable professionals.
That is what I love about us; we are here to fix things. Make them better than they were before," he explains.
We know that reaction time is key to curbing the damage done by a water emergency.
Water Accident Tips:
Be familiar with main valves such as gas and water. Turning them off in the event of a flood saves big bucks.
Inspect the way water runs off from the home in the rain. Sometimes water can run off under the home, causing damage such as mold to go unnoticed for years.
Make sure gutters are properly draining water, as these lines can cause water to back up, meaning structures like roofs are at risk for deterioration.
Check for leaks by inspecting exposed pipes in areas such as kitchen cabinets and sinks.
Ensure water is running during the winter, as moving water will not freeze as easily as water at a standstill.
We come with anything you can think of from infrared cameras to hazmat suits. Our 35 years of experience makes us a tailored solution to the most complex problems.
Expert Flooding Care at an Affordable Cost
The team here is IICRC certified, licensed, bonded, and insured to make sure that the homeowner's fresh start goes off without a hitch.
"Wood floor, carpet, and tile restoration is no problem for us. We have all the professional gear to get the job done," he says reassuringly.
Furthermore, 911 Restoration Colorado Springs wants homeowners to know that they are there for them in insurance matters as well.
"Homeowners deserve care that is cost-effective, and they deserve a team that will work for them," he says. This is why his water damage restoration team is always up to date with what insurance policies cover.
Filing claims can be tricky, but Chris's team has what it takes to drive cost down by maximizing the coverage insurances are willing to pay out. He will extensively document the restoration efforts as to get the care his customers deserve.
Whether it be floodwater or faulty drainage, 911 Restoration has what it takes to solve the problem. Call our water damage restoration Colorado Springs team for the best care in the business today!